is how to create resume in MS word? so difficult? making professional and simple looking is not an easy task. it will take around 2 hours to make any professional. every interview that your profile receives me should be professional and it should be matched with your profile and the requirements.
there the 50% 60% chances that if your resume is professional and simple looking and if it is matched with recruiter requirement of skills there are higher percentage chances of getting jobs in the interviews.
so in this post, I am going to share you how can you save your time by making professional resume/CV from default Microsoft word resume templates.
from 2003, 2007, 2013 and 2016 version there are thousands of resume templates are already available which are very good looking simple and very professional ones.
Also Read: https://www.techtuber.in/best-wi-fi-names/
these templates are very helpful so you need to only edit the sum of the contents and your professional resume will be ready in very few minutes.
it will save you time and it will make your resume very intuitive.
How to create resume in MS Word Templates
to create a resume in Microsoft word you need to open Microsoft word.
if you are using Microsoft word 2013 or 2016 then click on the new button available on the left side panel.
there is a search box given in the search box type resume templates.
after typing, the result will be shown with templates and give the result to you.
select any one of the temples and which will match your skills and the requirements and which will look very simple one.
Click on any one template after that clicking on the tab that it will give you detail how much size. it is what is the name of the template after that click on the create.
the template will be download the template and give you the result.
Now you can edit your name your, experience, work skill, education etc and more details as shown below.
type your name skills your hobbies and all other stuff. and save with your first name+ last name or lastname+ resume with .doc or .docx format.
if you are using Microsoft word 2003, 2007 follow the below procedure.
select file from main menu dances for templates option.
Click on my computer view to display option.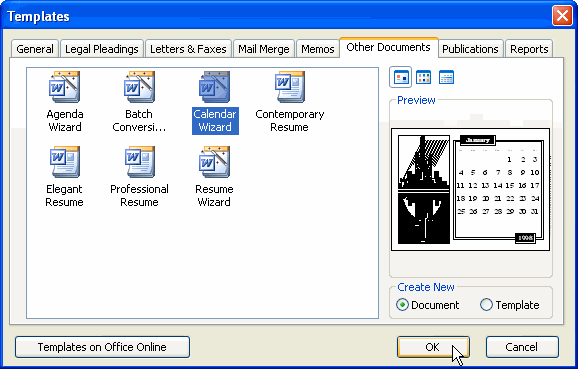 select one of the categories from the below option and click on preview and click on ok.
tips to use Microsoft office word resume template
keep it simple
if you are using Microsoft office word resume template make sure that it is easier to read and edit for you.
as well when you send on the email on any DOC file because if you send or if use any fancy text then it will destroy your fancy formatted text and it will destroy your formatting.
so keep it very simple so to make sure that it will easy to read by the hiring manager.
keep it concisely
don't include the very long history of your employment like 10 to 15 years experience.
no hiring manager will have time to read your long employment history to know everything about your work experience it only it should be 3 to 4 years of experience.
it should be very concisely formatted make sure that does not include everything you do in it keep it very concise.
choosing file format
make sure that whenever you send your resume or CV to your hiring manager or the recruiting party.
you must include in .doc or Docx file format because no one is having read pdf file format for Excel format or any other file format.
so make sure that you must keep your CV in the docx file format and while sending the mail for any your region file make sure that include your first name last name of the file name or your last name or your last name + resume as a filename. that is the full tutorial for how to create resume in MS word.
Conclusion
how to create resume in MS word will save tour time by creating default resume formats. you only need to edit it. and it looks professional one. let me know in the comment section which template you used. thank you for reading how to create resume in MS word blog.